Best selling Wired Alarm system in Malaysia, your Home security should be important to everyone whether you live in a house or an apartment. Burglar alarm systems not only protect your family while at home, they can often provide a quick link to the authorities while you're away .
LIFE Alarm series offers the intelligent 8, 10, and 16 zones system to protect your premise. The control panels have been designed with a very simple purpose in mind-to detect alarm and report them.
LiFE Alarm L880 (V), L810 (V) & L816 (V) comprises with 8, 10 & 16 programmable zones respectively, offers the advance features than L880. It offers interior and perimeter protection, Home Automation function and wide range of configurable features to suit your life style.
General Features for  Life  Alarm Series:
Support up to 4 keypads
2 partition and 4 home automation  outputs for momentary *
individual sensitivity for all zones
individual Chime zone & individual zone Bypass function
View alarm memory function
Quick key entry for Away , Home, Panic , Zone Bypass, Review event memory mode
Fire, Police and Medical Alarm
Programmable siren On/ Off squawk for Arm and Disarm
Dual reporting for CMS and  Personal format
Cal l in with function  menu selection  in voice *
Remote access to  Away arming , Home arming and Disarm system
4 Personal reporting dialling numbers
Fax Bypass
Anti-takeover function
System supervision features
False Alarm prevention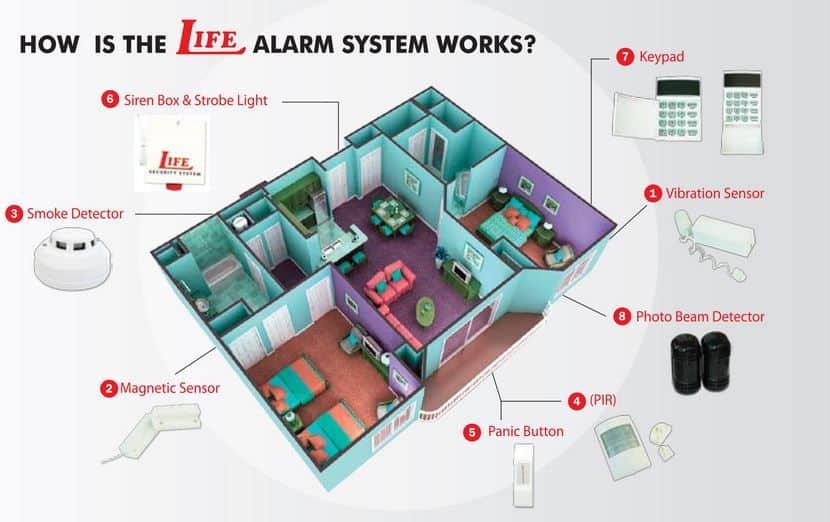 How life alarm works
Optional Accessory
1.    GSM Module
GSM Module is an inexpensive and reliable GSM Alarm Autodialer. The GSM network is used and it is especially suitable for locations, where there is no fixed telephone or in the event of telephone fails.
The module is compatible with all mobile providers (e.g . Maxis, Digi, Celcom, etc) and it is integrated with voice -feedback ability during call in or call out report. Choose "SIM " to suit best network coverage in the area the unit is to be installed.
2.    Home Automation
LIFE. Security Systems provides you with a high level of comfort and security . Besides offering burglary detection, it gives you "smart"home automation function.You can call up your system and perform system arming / disarming and also activate Home Automation. Just touch a few keys on your telephone, you may switch ON your porch light or some electrical devices from  anywhere  without  much hassl e, you can even have Alarm and Home Automation reports in voice.*
3. LED & LCD Keypad
The LED keypad provides easy-to-understand information about the status of your security system by lighting words corresponding to important functions on the LED display. The LCD keypad offers complete system control in an elegant, compact design that's surpris­ ingly af fordable and it's equipped with a backlit interactive LCD screen which provides status information and feedback for users.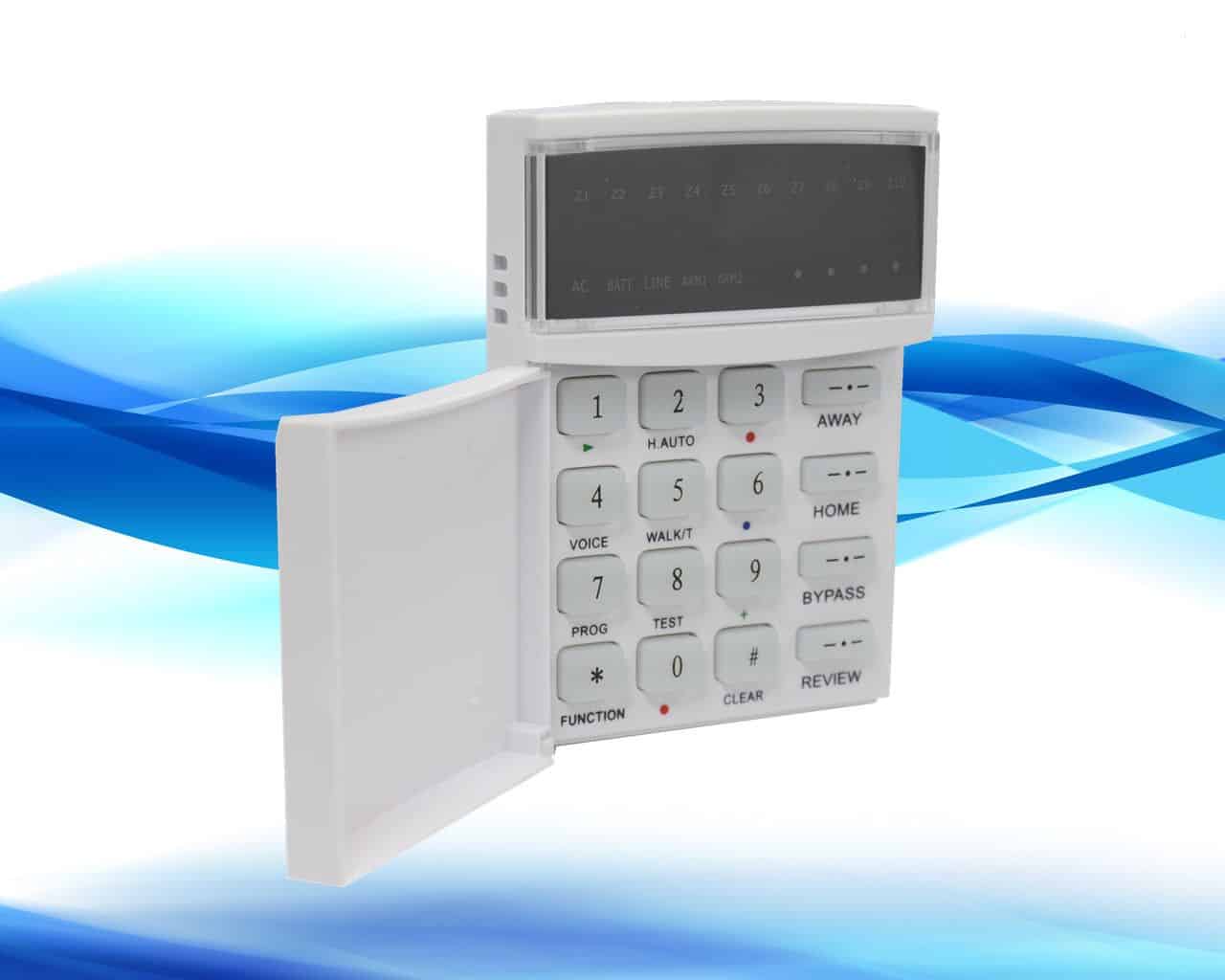 Life ALARM SYSTEM PROTECT YOU

 LIFE, Alarm system has put together a complete range of home security solutions. The system provides a superb interface to monitor data from doer, window and motion sensors. Any violations of these sensors while the system is armed will result in an alarm condition. This will reported to you and your security com­pany via the  telephone communicator  and/or radio transmitter.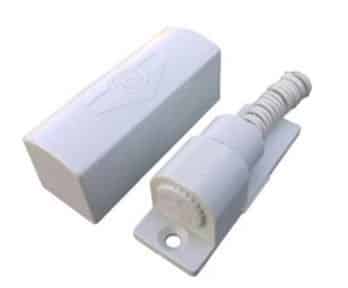 Vibration Sensor
Vibration sensor is a simply device that detects shocks, and is used to detect an att empted break in by forced entry.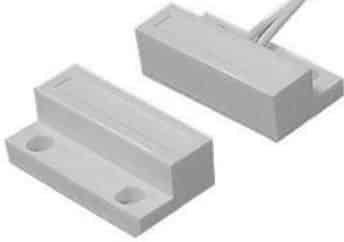 Magnetic  Sensor
Magnetic sensor is a device that simply lets the alarm control panel know if a door, shutter or windo w is open or closed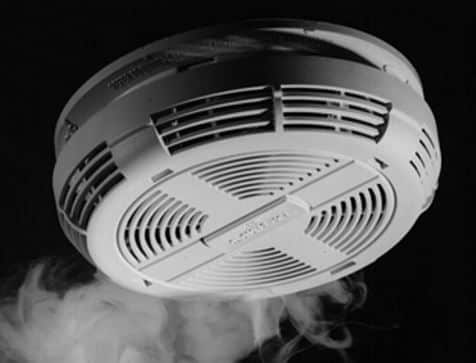 Smoke Detector *
A smoke detector is a device that detects smoke and issues an alarm to alert nearby people that there is a potential fire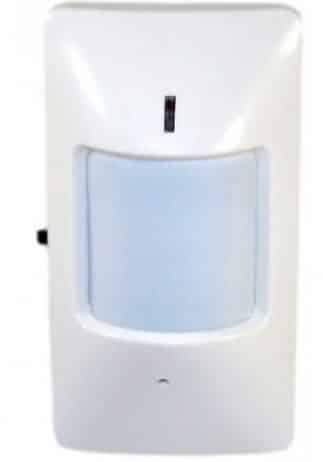 Passive lnfrared Motion Detector (PIR)*
The PIR Detector provides extra protection forthose areas inside your premise (e.g.hallways, do orways,
sta irways , etc.) where an intruder might  pass through.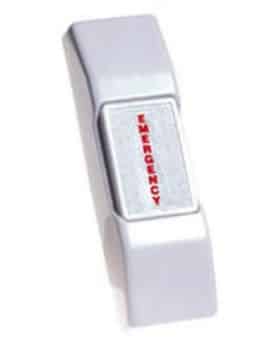 Panic Button *
Panic button is mainly use in the event of emergency. Ideal locations might be installed at the front door, or wit hin reach of your bed
Wireless Receiver *
Adding a wireless solution to a hard­ wired alarm system can be achieved with this receiver.  It  has a single output that can be used to commun ­ icate with most security syst em and support up to 16 wireless tran smitters and devices.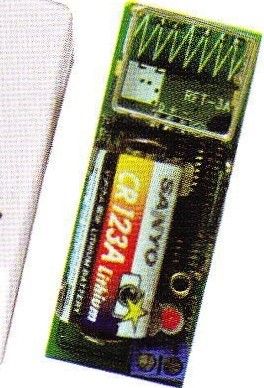 Wireless Transmitter *
A feature for this wireless transmitter is to eliminate the need to run wire from the sensor to the main alarm controller while it still remains function as wiring sensor.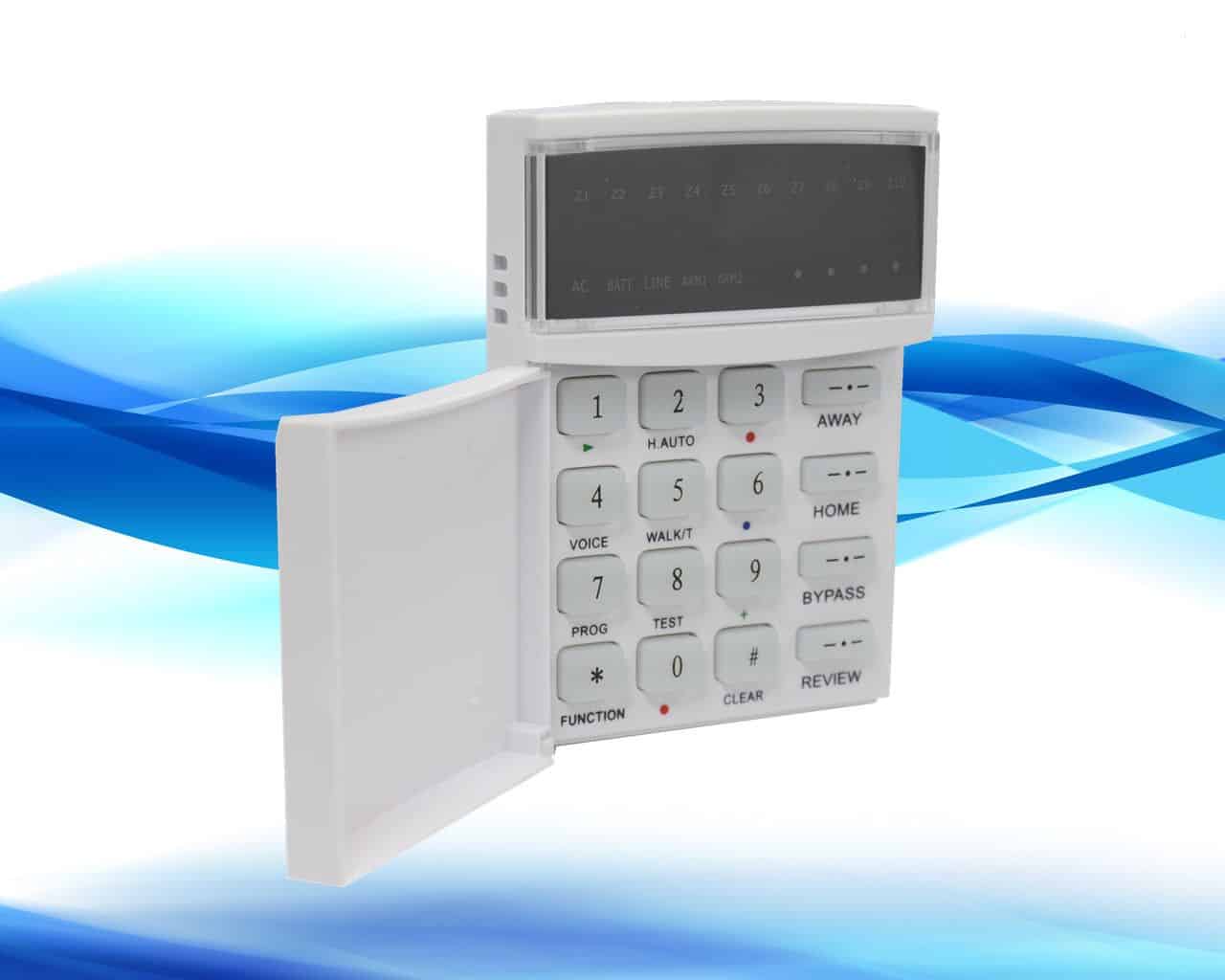 Keypad
The keypad displays continuous information about the status of the alarm system.The idea location might be installed at the master bedroom or living room, which is convenience for user to operate the system.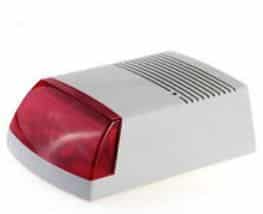 Siren & Strobe Light
Siren & Strobe light is an audio and visual indicator. When an intrusion is taken place, the system will turn on the siren & strobe light to notify user and people around the premises.
Photo Beam Detector *
Photo Beam Detector is best used when detecting mavement across larger areas. Photo Beam Detector has separate transmitter and receiver unit s, and movement is detected by something crossing the beam created between the units.