GreenStream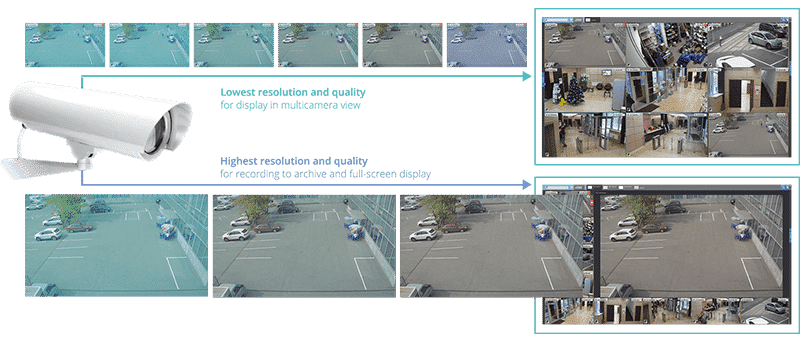 GreenStream is the best way to transmit data while reducing CPU usage more than 5 times
GreenStream feature allows displaying more cameras on one client while saving bandwidth and client CPU resources.
When there are 16 Full HD cameras and video from all these cameras is displayed simultaneously in the layout, there is enough resolution to display 16 pictures with 480×270 resolution. So there is no need to burden the network by transmitting all these camera streams at full resolution and then consume CPU resources by transmitting, decoding and rescaling the video.
GreenStream feature is the best solution used for security system performance optimization.
GreenStream automatically chooses the stream with the smallest resolution that is enough for displaying video in the layout on operator screen and the operator does not see how GreenStream works. And if the operator needs to watch full-screen video from one of the cameras, the system automatically switches to the video stream with higher resolution.
Use of stream with small resolution is essential when there are detectors on the cameras as they consume a lot of computational power.
Auto switch between streams can be disabled and one can lock the stream that is to be transmitted. This feature is great for systems with limited bandwidth as one can choose the «lightest» stream. Any stream with both high and low resolution can be chosen to be recorded to the archive.
GreenStream significantly saves the system resources making its performance faster and better. Load of server and local clients' resources as well as use of network traffic are 5 times reduced! So users can process 5 times more video streams with current CPU resources!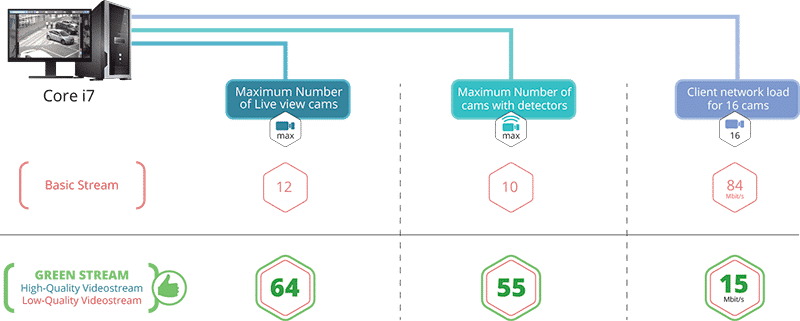 CAMERA REQUIREMENTS
There are several requirements to be met:
Cameras must transmit several streams. All modern cameras have this capability.
Cameras must be either integrated in Axxon Next or support video transmission via ONVIF or RTSP.
HARDWARE REQUIREMENTS
Use a calculator at www.axxonsoft.com in order to calculate hardware requirements needed to use GreenStream.
Add all groups of cameras as initial parameters, specify parameters of these cameras and add extra video streams in the GreenStream column.
Specify values, function and detectors in use for streams with high and low resolutions. As the result the calculator will show platforms recommended for specified parameters.
THE BENEFITS OF USING GreenStream FEATURE ARE OBVIOUS:
Load of CPU resources for the servers with video analytics are significantly reduced.
Use of network traffic for video transmission to remote clients is significantly reduced.
Load of CPU resources for RMW are significantly reduced.
TOTAL CPU USAGE IS REDUCED MORE THAN 5 TIMES!